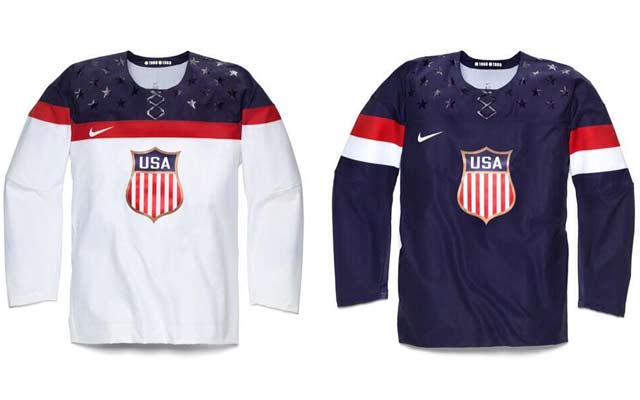 There is little that means as much to professional athletes as competing in the Olympics. For players that have become the best at their sport, the Olympics have a extra-special meaning. Ask any player and they will say that they would be honored to be a part of their country's Olympic squad. With the start of the National Hockey League season drawing close, the hockey world is growing anxious. But the players that were invited to Olympic orientation camps are still trying to grasp that in less than six months, they could be representing their respective countries.
"It's something that a lot of guys would be honored to do," Blues defenseman Kevin Shattenkirk told E.J. Hradek. "It comes around once every four years and the window of opportunity is pretty small. I think most guys understand that if you are playing well (for your team), you will get a chance to play for your country.
It's hard to get used to the fact that this could be a possibility and we are six months away from that."
Shattenkirk, along with forwards T.J. Oshie and David Backes, are among 48 players representing Team USA at the two-day orientation camp in Washington D.C. The camp, which concludes on Tuesday, is a chance for players to meet with their coaches, teammates, and the media. With the start of the regular season looming, the players do not participate in drills or practice. Instead, the camps are meant to be informative.
"It's been crazy," admitted Shattenkirk. "It's been a little busy; we are running around the rink for media obligations. We got to meet with the coaches (Monday) morning and start to go over some systems."
On Tuesday, as part of the festivities that were open to the public, Team USA revealed their new Olympic jersey (pictured above article). In the days prior, the team had meetings to discuss tryouts, strategies, and participation.
Tryouts for the Olympic teams will essentially be how the players perform on the ice in the opening stages of the regular season. The final rosters will be announced on Jan. 1.
A good chunk of the 48 players present at the camp are familiar with one another. Team USA competed in the 2010 Olympic games, bringing home a Silver Medal, but falling one tally short of the Gold, which was won by Team Canada. 16 players at the orientation camp, including Backes, were a part of the 2010 U.S. Olympic squad. Barring any surprises, Backes will likely be a part of the 2014 squad as well.
Joining Backes in D.C., both Shattenkirk and Oshie are a bit newer to this experience, and are really taking it in and enjoying it.
Shattenkirk and Oshie each have solid resumes when it comes to international play, but neither have had the opportunity to participate in an event as big as the Olympics. For both, it is an honor unlike any other.
"It's a great experience," Oshie told NHL.com. "I was in Chicago four years ago for the Olympic camp there. That one was a whirlwind for me and now I can really take it in and see some familiar faces. I'm just honored to be here."
For Oshie, the most important aspect of the camp is getting to know his potential Olympic teammates. Though players often spend time with fellow NHLers from other teams and cities, the grind of the season doesn't always allow for player to really become acquainted. The two-day camp allows for players to meet players from other teams, as well as coaches and management.
"This is a really, really close group," said Oshie. "It's nice to see guys getting off of the planes and meeting at the airport, or seeing each other at the hotel. You see smiles everywhere, and more hugs than handshakes. It's great, and that is going to go a long way in the Olympics."
Assuming all three Blues players make the Olympic squad, they will be traveling to Sochi, Russia after the NHL shuts down on Feb. 9. The players will have a 17-day break for the Olympic games.
In all, the Blues could have eight players representing at the Olympics, as well as Ken Hitchcock, who is Team Canada's assistant coach, and Doug Armstrong, who is the Associate Director of Player Personnel for Canada. With so many members of the Blues having a chance to compete in the Olympics, there is sure to be some teasing going on in the locker room.
"I'm sure (there will be)," said Shattenkirk. "'Hitch' isn't afraid to throw out a couple of comments here and there, even Doug Armstrong is part of the group there. Just from talking with them over the summer, it is an opportunity that both would like most of their players to have and there are quite a few of us from St. Louis that have that chance, so we will see what happens."
All three Blues players with the opportunity to represent Team USA are under 30 years old. Playing in the Olympics is something most dream about, but right now, all three have a real shot at the honor. While so few players make it to the NHL, even fewer make it to the Olympic games. The two-day orientation camps are a sign to the players that this could actually be a reality, and they want nothing more than to make it so.
"It would be something very special (to make the team)," said Oshie. "I don't even know if I could describe it. It would have to happen for me and sink in for a couple of months. It would mean everything to me and my family, and everything that I've worked for my whole life."