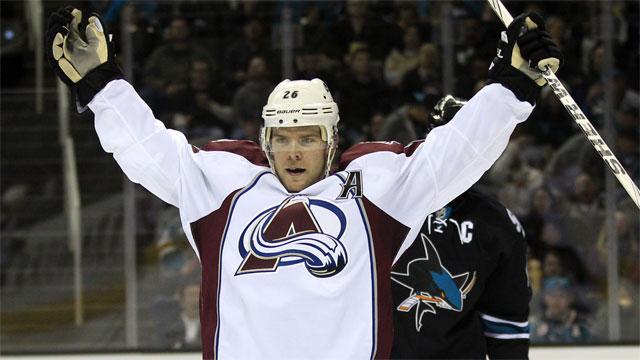 The 2014 NHL draft is over, free agency is on the horizon, and the Blues have perhaps shifted their focus in their search for a center.
In the days leading up to the draft, the Blues were heavily regarded around the league as the team that had the best chance to land Ottawa Senators center, Jason Spezza. A deal was expected to happen before or during the draft, but one never transpired, indicating that Blues general manager Doug Armstrong could explore a different avenue before giving up valuable assets to Ottawa.
Per multiple reports, Ottawa's asking price for Spezza heading into the draft was a first-round pick, a top six forward, and a top prospect. Senators general manager Bryan Murray never wavered from his high demands, and as a result, Spezza is still a Senator.
"I've said all along that the way it's going to work is we're going to get some value for a really good hockey player," Murray said in an interview transcribed on the Senators website. "It certainly hasn't been out there at this point in time."
Murray perceives Spezza as an 80-90-point player, and he demands a fitting compensation. Spezza has eight seasons with more than 50 points, but the problem for Murray is that the market for Spezza has perhaps evaporated.
"There were conversations," Murray said at the draft. "People had suggested they might do certain things and at the end of the day there was no real legitimate, "we'll do this."
Originally, it was believed that St. Louis, Anaheim, Dallas, Nashville, and Chicago were all interested in Spezza. There are perhaps still other suitors, but it is believed the mentioned teams were, at one point or another, the most serious. However, Anaheim traded for Ryan Kesler when Ottawa reportedly demanded the 10th overall pick from the Ducks, Chicago is right at the $69 million cap ceiling for next season and will look to shed salary, not add, and Dallas, along with Nashville, is on Spezza's no-trade list according to TSN. In fact, Murray had a deal in place with the Predators at the draft, but it was nixed by the Spezza camp. As the situation plays out, the Blues may become the only realistic option for Murray. Yet, neither side is caving.


"I have no idea, the odds certainly appear that way," Murray said when asked if the process would be dragged out. "A couple of the teams I was talking seriously to didn't come with a presentation for the most part. I talked to a number of general managers that, as I said, initially called and talked and it just didn't go anywhere"
The Blues continue to show a strong interest in Spezza, according to ESPN's Pierre LeBrun, but even with most of the leverage in his possession, Armstrong is playing the waiting game, and could continue to do so until the middle of this week when other options become available via free agency. One of those options will be Colorado's Paul Stastny, who the Blues
have already contacted to relay their interest.
Stastny could be seen as the preferred option for the Blues. The center is not looking to take a salary offer that falls below the $6.6 million he made last season, and he will be overpaid. But should the price for Spezza remain too high, dollars become less important than assets. However, the Stastny camp has heard from a plethora of NHL teams over the past few days, and if a bidding war ensues, the Blues could ultimately be priced out. But it's a chance they will likely take.
Stastny, 28, spent his childhood in St. Louis, and it has been speculated that the city his father and brother both played in is near the top of his list of preferred destinations. However, the money has to be right or he will go elsewhere. In that situation, the Blues would then have to hope that Spezza is still an option. But all signs point the Senators' captain being available next week, and Murray is hoping a team that misses out on Stastny will pay heavily for Spezza as a fallback option. But the Ottawa GM says if he doesn't get a reasonable return, he will keep Spezza next season.
"What happen to players signed to contracts," Murray asked rhetorically. "I suspect there will be further conversations. (The draft) was not a deadline by any means. We don't start hockey until mid-September, we have a number of things that could happen. It's a matter of having conversations with the right people. If it happens, it happens and if it doesn't we have a really good player."
But the Blues will circle back to Spezza if they miss out on Stastny, perhaps sooner if they don't like the direction of discussions with Stastny's camp leading up to the start of free agency on Tuesday.
Theoretically, the Blues have enough cap space to try to woo Stastny and trade for Spezza. However, such a strategy would put them nervously close to the cap. This is why Stastny would make more sense for the club.
If the Blues can sign Stastny, they can add a top center without giving up any assets. Any deal with the Senators for Spezza would likely involve Patrik Berglund, who signed a three-year contract with the Blues last Thursday. The new deal makes Berglund a more enticing option for other teams, but the belief is that the Blues would like to hang onto the 26-year old, if possible. By signing Stastny, the Blues would do just that, and round out their group with three quality centers in David Backes, Stastny, and Berglund centering the top three lines.
Stastny would also be less of a risk injury-wise, considering Spezza has had his fair share of injury-related issues.
Weighing the two options, it's easy to see why Armstrong has not pulled the trigger on a deal for Spezza. With Stastny becoming an intriguing option for the Blues in two days, the Blues can be patient and examine the options, hoping to get their preference. But things don't always work out as preferred.
With a limited number of suitors in the Spezza sweepstakes, Armstrong can afford to wait for the price to be lowered while he gauges Stastny's interest in signing with his club. And while some will harp on the Blues general manager for being inactive at the draft, waiting could prove to be a stroke of genius from Armstrong.
Either way, the Blues will be active next week. And with $16 million in cap space, and plenty of assets in their recently retooled system, they can afford to be as they weigh their options at center.