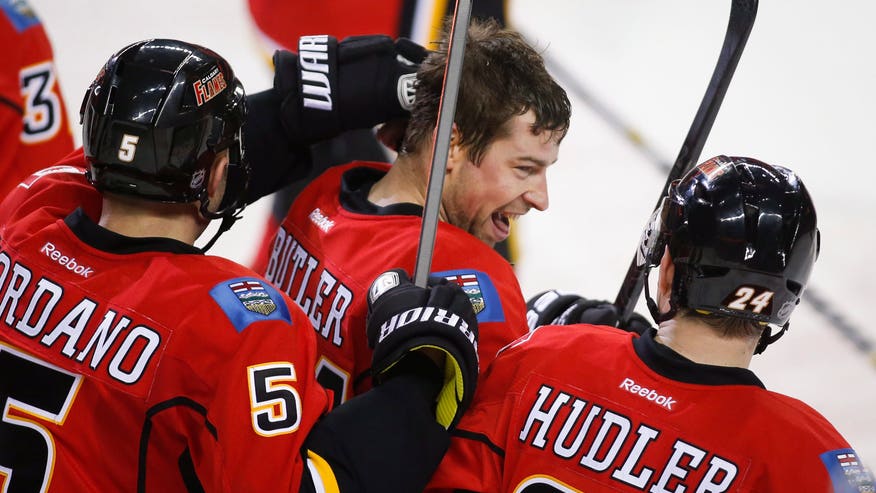 Chaminade Prep continues to churn out more than its fair share of National Hockey League players, two of which have landed with the Blues in the past few weeks. First, it was Paul Stastny on July 1. Now, a little over two weeks later, the Blues announce that they have signed another former Chaminade Prep player in defenseman Chris Butler.
Butler, 27, signed a one-year, two-way deal with the Blues on Wednesday afternoon. Being a two-way contract, the parameters of the deal include two different levels of compensation. In the American Hockey League, Butler will make $400,000, while in the NHL, the defenseman will earn $650,000.
The new deal is worth substantially less than the former unrestricted free agent's $1.7 million deal with the Flames last season. That deal was also a one-way deal, which is nearly a 100-percent guarantee of an NHL roster spot. But with the Blues, Butler will have no such guarantee.
While Butler will have a shot at making the NHL club in training camp, there is a strong likelihood that he will see time with the Chicago Wolves to start the season, as the Blues currently have seven NHL defensemen on one-way deals. However, how Butler performs in camp will help to determine how soon he is sporting the Note on his chest.
The newest Blue has a wealth of NHL experience, having split six NHL seasons between Buffalo and Calgary. Butler was drafted by the Sabres in 2005 and was traded to the Flames in 2011. Altogether, the defenseman has played in 349 NHL games, accumulating 75 points.
The St. Louis native is coming off of a 16-point season with the Flames. He was the only Caalgary player to dress in all 82 games last season, and averaged more than 20 minutes of ice time per game with the club.
Butler didn't generate substantial interest via free agency this offseason, but the Blues, who were in desperate need of defensive depth, gradually increased their interest in the defenseman as the offseason aged, according to the St. Louis Post Dispatch.
After next season, Butler will, once again, be an unrestricted free agent.