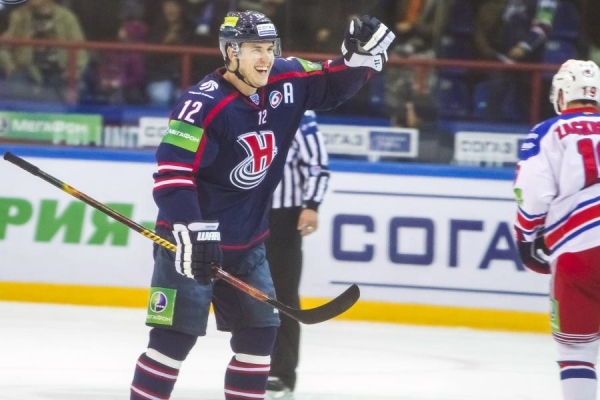 Signing Jori Lehtera was the Blues' first move on a hectic Tuesday kickoff to free agency, and it has nearly flown under the radar. It's not unexpected, considering the team announced the signing of prolific center Paul Stastny just 20 minutes after the announcement was made on Lehtera's two-year deal. But the signing of the former prospect was more than a depth move; it was an all-together important one.
The addition of Lehtera was one that surprised St. Louis. Lehtera had spent seven games with the then-AHL affiliate of the Blues, the Peoria Rivermen, during the 2008-09 season. Before, and since then, Lehtera had been playing overseas and had shown little interest in playing in the NHL.
Last season, the Blues' 2008 third-round draft pick was offered a roster spot on a St. Louis team that was decimated at the center position. But Lehtera declined, and signed a contract with Novosibirsk Sibir of the Kontinental Hockey League. The Blues were left in a tough position, and did not expect to ever see Lehtera sporting their logo. But things changed in a hurry.
"I had a good chat with him at the Olympics at the dining hall," said Blues general manager Doug Armstrong, who was a part of Team Canada's 2014 Olympic management. "I told him that we were disappointed that we couldn't come to an agreement (last year)."
Lehtera, who was a part of Finland's Olympic squad, did what any player looking for another chance would do; he admitted that he had made a mistake.
"He said at the end of the day, he felt he made a mistake which was the first step in saying, 'well, if you can rectify that mistake, if you can get out of your contract, we'd love to have you'," Armstrong said.
Following that conversation with Armstrong, Lehtera got to work on his end of the bargain, finding his way out of the two-year deal he signed with Sibir last season. Had Lehtera and Armstrong not met in that dining hall, Lehtera would have likely returned to the KHL for the final year of his contract. At the end of that contract, Lehtera would have been a 27-year-old unrestricted free agent, and the Blues would have lost his exclusive rights.
"This year was very important for us in the sense that if he had gone back, he'd be an unrestricted free agent at 27 and so this was our last, and only, opportunity to deal with him with no outside competition," Armstrong said.
"We'd been dealing with the competition of the KHL and the KHL has been winning up until this year. He was able to get his way out of his contract. Over here, we bought one year of restricted free agency and one year of unrestricted."
The 26-year old center will make $5.5 million over the next two seasons, as well as a $1.6 million signing bonus. He would have made a lot more in the KHL, had he chosen to return. But Lehtera wanted to re-invent his first chance at an NHL spot.
"We've been working on this for a while since he said he could get out of his deal, but we've been trying to keep it a little bit under wraps not to get anyone's hopes up," said Armstrong. He had to do the work first to get out of the deal before we could do anything."
Lehtera's signing has the potential to be a big one for the Blues, who went from having a weak center grouping, to having a surplus of middlemen in about 33 minutes on Tuesday.
The Finnish skater has put up impressive numbers in the KHL over the past three seasons. Since leaving Lokomotiv and joining Sibir in 2011, Lehtera has tallied 118 points. 79 of those have been assists.
"He's a big body, 6-foot-2, 210-pounds .....Very, very soft hands," Armstrong said of Lehtera. "Very good passer. When you look at his goals-to-points ratio, he's certainly a three-to-one passer to goal scorer. He's a guy that can find players. I watched him at the World Championships give some guys some back-door tap-ins on the power play. He's just an offensive player where his strengths are his passing skills."
Lehtera also has some familiarity with his new teammates, specifically Vladimir Tarasenko. Lehtera and Tarasenko were linemates on Sibir before the latter joined the Blues in 2012. The two are every well accommodated with one another, and gel together on the ice. It could be that the former linemates are reunited.
Originally, it was believed that, if the Blues brought in a top center like Stastny, he would center youngsters Jaden Schwartz and Vladimir Tarasenko. However, Armstrong indicated that the coaching staff could slide David Backes to the wing, have Stastny center the first line and put Lehtera between Schwartz and Tarasenko.
"I think we have a lot of different options now," Armstrong said. "It might take a little bit of time to find a constant rhythm and the right pairings."
The Blues' coaching staff is very high on Lehtera, and see the center making a big impact next year. Lehtera won't be battling for a spot on the roster and will be in the lineup opening night. He may have been an under-the-radar signing, but it's all relative. To the Blues, he is a key asset that, a few months ago, the club didn't count on having.
"Having the opportunity to watch him play at the Olympics first-hand, watching all his games at the World Championships, talking to people I know from the Finnish Federation, there's very little question he's ready to step in and be a contributing factor in the NHL," said Armstrong.